Today would have been my and Simon's 11th wedding anniversary. This has been a week of reflection and processing, often with my sweet new husband, Jason. His favorite part of my story with Simon AND my story with him is this concept:
"An extraordinary amount of perfectly timed events had to happen for us to happen."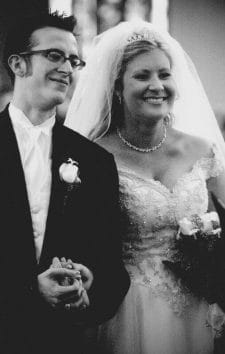 During an hour plus long car ride in congested LA traffic yesterday, Jason and I unpacked this idea more. And the more we discussed, the more I was convinced that our story, and the stories of many others, can't just be random. There is something, and Someone, bigger that sees and knows us. We first talked about relationships that grow out of convenience or proximity, like becoming friends with a coworker or forging a bond with a neighbor or hanging out with a schoolmate. These relationships can be simple, straight forward, and easy to cultivate. And I'm not discounting the importance of them. Your best childhood friend may still be your present best friend or may have grown to become the love of your life. You are blessed! What a privilege to have someone by your side that has known you longer than just about anyone.
Some relationships. however, are a complex combination of circumstances and knowing the right people at the right time. We began to list each critical decision that led to us.
It can all be tracked back to the first decision in 2001. I resolved to spend a college semester in Texas. The deadline to enroll for the Spring semester exchange program had passed and the only person that could push my application through was a college counselor named Peggy. You can read more about that here (https://goldenlonestar.com/how-we-met-part-1/). She made calls, pulled strings, and squeezed me in to the only college in Texas that had an opening left, University of North Texas. So without Peggy, there would be no us.
After a few weeks in Denton, I decided a job would be a great way to meet local people and earn extra money. I did not need a job. My grandparents had saved a small college fund for each grandchild and my parents encouraged me to use it for the semester in Texas. Nevertheless, I marched in to the local Albertson's, found the manager, detailed my three years of grocery store experience, and walked out with a part time cashier job. This would lead me to meet Simon's best friend, who introduced me to Simon. Without Albertson's, there would be no us.
During his last year of college, Simon briefly dated Michelle, a sweet, compassionate girl who had interned with a travel organization called Wonder Voyage. They realized that friendship was a better fit and Simon ended up doing his college internship with that organization. The founder of Wonder Voyage, Shawn, would eventually do premarital counseling for Simon and I, and officiate the wedding ceremony for Jason and I. Without Michelle, there would be no us.
Simon and I were seriously dating when he invited me along to meet his friends from Wonder Voyage. There were about 10 people and I remember a few of them had just seen Napoleon Dynamite. One guy in particular, Jason, was reciting the lines with precision and enthusiasm. I clearly remember thinking, "He's really funny!" When I saw Napoleon Dynamite a few weeks later, I could picture Jason reenacting the scenes as the movie characters said the classic lines. This may be a stretch, but without Napoleon Dynamite, there might not have been an us.
Over the years in our marriage, Simon would get together with Shawn and the other Wonder Voyage staff if he was near Dallas. In the winter of 2011, whilst uncomfortably and giantly pregnant with our youngest daughter, Simon and I met for lunch with Shawn and Jason who had traveled to Southern California from Texas for business. Again, I remember being so fond of Jason's company, humor, and friendship. The four of us enjoyed a leisurely meal in the ocean breeze talking and laughing about all kinds of stuff. On the ride home, Simon and I talked about how grateful we were for our friends. Without Shawn and Wonder Voyage, there would be no us.
Three lonely, somber months after Simon passed away, Jason took a rode trip to deliver a good friend's car out of state. The only reason I knew that is because that good friend happened to be Simon's cousin. Jason and I connected via social media and I suggested he swing by Los Angeles on his trip. The kids and I were in need of someone familiar that could make us smile. He wasn't able to make it on that trip but came out a month later. The visit was fun and platonic. The emails, phone calls, and texts that followed during the next few months led to a deep relationship that led to our marriage. Without Simon's cousin, there would be no us.
And it goes without saying but I'll say it anyway. Without Simon, there would be no us.
Beyond the perfectly timed people and the perfectly placed places, there is that Someone who knew our stories before we ever did.